A wellness getaway at the Delcloy Hotel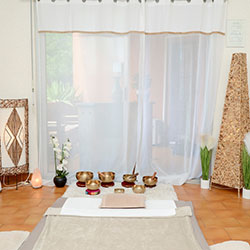 Give yourself a relaxing vacation in our beautiful 3 star hotel Vacances Bleues offering spirit lifting and take away negative feelings of stress.
How to want to take care of yourself? In the heart of a park of 3 hectares with a breathtaking view on the most beautiful bay of the Côte d' Azur, let yourself be tempted by our relaxation massages. Release your tension and restore your vitality with our tonic massage which stimulates your body.Live a pure moment of fullness and well-being in an incredible natural setting.
Take a break around our heated outdoor swimming pool in a stunning setting.
Wellness moment in Saint-Jean-Cap-Ferrat
How to take a Zen attitude to a break up? Our Hotel in Cap-Ferrat provides you a variety of different style of massages. After making outdoors activities, enjoy the benefits of well-being massages in front of the sea.
Our professional masseuse will immerse you in an authentic atmosphere. (Massages are available by appointment only. Please contact our reception team).
Exploring dynamic experience on the Côte d' Azur
Choose a fitness holiday in our charming hotel to stay energized all day! Take care of your body and create your perfect program and your favorite health and relaxing activities in a haven of peace.
Delcloy offers you invigorating and relaxing gymnastics sessions (abdominal muscles exercises, buttocks, Zumba sessions…) and Stretching (depending on the season).
Yoga sessions : 4 times a week (12€ per session)
Wellness and Yoga Holidays
From 24 September to 1 October 2022 (over 5 days) – 35 €/person the week
The hotel enjoys a unique natural setting in Saint-Jean-Cap-Ferrat and provides a range of exceptional services. Come and enjoy an extraordinary atmosphere of wellness and relaxing including :
Sophrology
Tibetan bowls
Yoga  (Practice yoga in our beautiful park during only in autumn. Enjoy a unique experience in our hotel, through the vibrations of the Tibetan Cymbals "Tingshas" to relax. It's helpful to calm yourself and calling your mind to live more fully your vacation. Discover these traditional rituals for an optimal meditation with our team).
Our yoga teacher Roselyne Geoffray, a graduate of the Federation of Traditional Yogas, invite you to discover this  discipline. She guides you to support physical health and well-being. Monday to Friday at 9:30 am.
Meet on Sundays at 6:00 p. m. for an initiation session offered.
After relaxation sessions, enjoy a range of activities on the spot and our tasty Mediterranean dishes. At the end of the day, you will appreciate to find our spacious and comfortable rooms where you will spend relaxing nights.
From 18 to 25/03 and from 25/03 to 01/04/23
During 5 days all aspects of yoga* will be on the agenda:
postural practice, pranayamas*, relaxation and guided meditation, mantras, sound baths with Tibetan bowls. To find calm, serenity, balance and well-being.
Over 5 days, 70€/person.
YOGA AND WRITING WORKSHOP
From 04 to 11/03/23
What is the link between writing and yoga? Each day a different theme for a session.
Over 5 days, 70€/person.
From 01 to 08/04/23
5 hatha yoga* and yin yoga* classes and 3 pilates classes.
Over 5 days, 70€/person.
* Yin Yoga: slow rhythm, long postures and principles from traditional Chinese medicine. Hatha yoga: traditional form of yoga, based on holding postures over several breaths. Pranayamas: breathing techniques.